Miami has so many things on offer, but to many visitors, it's basically all about glamor, condensed into urban form. The city of Miami has a lot of things to see and do; all are glamorous in every sense of the word. You can spend a fun time on holidays to get rid of daily stressful lifestyle.
Being a tropical and lively city, Miami attracts every kind of traveler throughout a year. With the near perfect weather and diverse exciting activities, this huge area represents it as a never-ending adventure. The bustling nightlife, lazy days on the beach, breezy outdoor shopping spots and almost everything else a traveling enthusiast can imagine awaits in Miami. Hence, experience Miami at its best with shuttle service Orlando to Miami. Below are a few best places to visit in Miami:
The Best Destinations To Visit In Miami: –
1. Bayside Marketplace: – Bayside Marketplace is an exceptional waterfront retail and entertainment complex with over 140 shops, restaurants and bars with daily entertainment facilities. Choose eatery like Hard Rock Cafe and Chill's and enjoy tasting delicious items. Besides, Bayside Marketplace hosts a wide variety of events; so you'll find something for everyone.
2. Billie Swamp Safari: – If you are on a day trip in Miami, consider visiting Florida Everglades at Billie Swamp Safari, located on the Big Cypress Seminole Reservation. On a trip with Orlando to Miami shuttle, enjoy swampy buggy tours and airboat rides as well as snake, alligator and critter shows for education and entertainment purposes. If you are a true adventurer, stay overnight in a traditional Seminole chickee encircled by over 2,200 acres of native and exotic wildlife species.
3. Eco-Adventures At Everglades: – Try out naturalist- guided nature adventures highlighting the sun-tropical beauty, pristine nature parks, unique wilderness areas and historic sightseeing attractions across Everglades. Visit the Florida's Everglades, the leading and most complete airboat attractions. Explore nature's River of Grass on an Eco-Adventure tour or on a small private airboat in Everglades. No matter what, you will get to enjoy world famous airboat rides, alligator wildlife shows and a walking trail with full of crocodilian exhibits.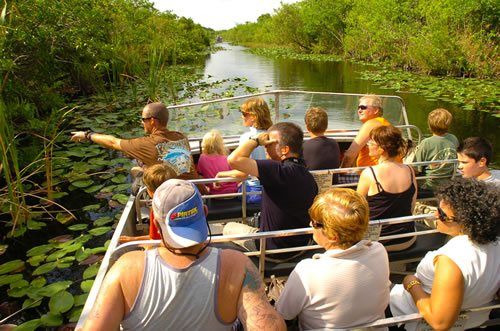 Conclusion: – Traveling can be stressful and a hassle, especially if you don't consider transportation details. Florida Shuttle Express is a premier shuttle transportation service provider in Miami, Orlando and across Florida. We endeavor to provide the enjoyable travel experiences to assure our clients with complete travel satisfaction and peace of mind. Click here if you want to book our Orlando to Miami shuttle online and contact us online to inquire about additional knowledge of our vehicles.
Check out our recent up-to-date details and find out how we will cater your transportation needs.